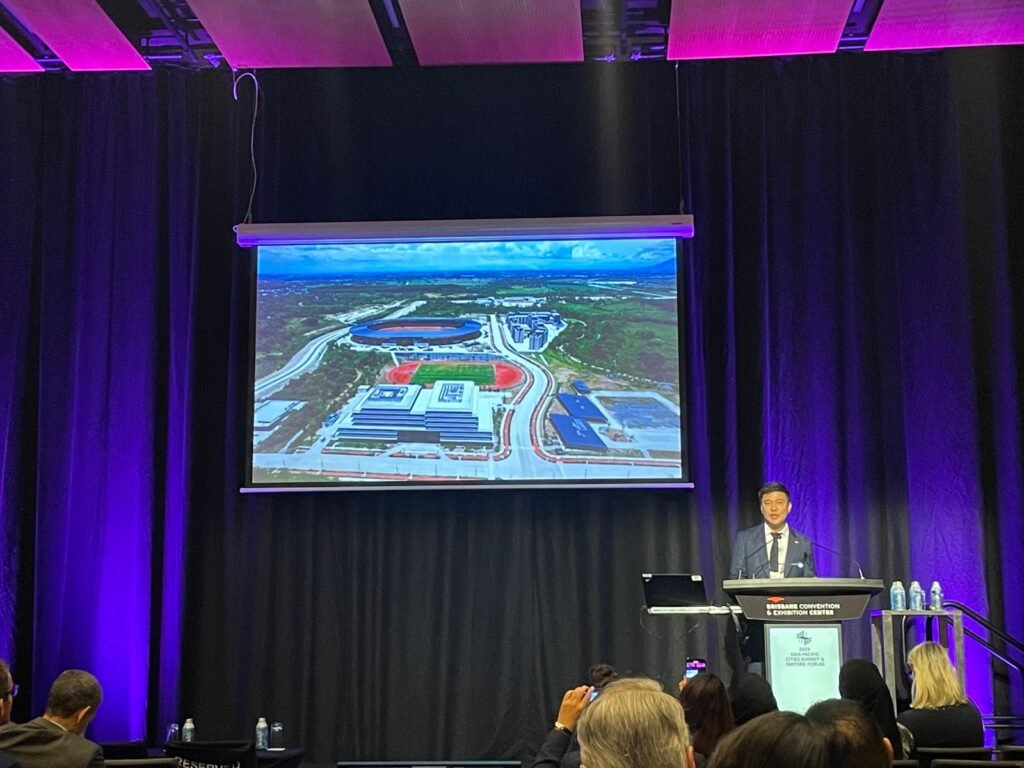 The Clark Freeport and Special Economic Zone in Central Luzon has been touted as one of the world's "Cities of Legacy" during a summit in Brisbane, Australia, for its sustainable, future-ready, and people-centered design.
Speaking at the 2023 Asia Pacific Cities Summit (APCS) and Mayors' Forum last October 13, Bases Conversion and Development Authority (BCDA) President and Chief Executive Officer (PCEO) Engr. Joshua M. Bingcang told over 1,500 city leaders, policymakers, and investors about Clark's business case, and why it is worthy of being called the Philippines' City of Legacy.
Clark, according to PCEO Bingcang, is being built as the Philippines' next economic center, with the purpose of addressing the growing urban problems in Metro Manila and improving the quality of life of Filipinos.
"A 320-square kilometer disaster-resilient and inclusive development located 90 kilometers north of Manila, Clark is positioned to be the Philippines' premier modern metropolis and gateway, with a carefully thought people-centered master development plan," he said.
The whole of Clark encompasses the provinces of Pampanga and Tarlac—covering the 21-square kilometer mixed-use area in the Clark Freeport Zone, the 23-square kilometer Clark Civil Aviation Complex, the 94.5-square kilometer New Clark City, and a 180-square kilometer sub-zone.
PCEO Bingcang said Clark was built from scratch, designed to give people a well-balanced lifestyle with different developments that allow businesses to thrive, families to live, and residents to grow.
Clark also enjoys strategic location and seamless connectivity, being near the Clark International Airport and the Subic-Clark-Tarlac Expressway. It has its own extensive road network, and will soon be accessible via the North-South Commuter Railway.
Today, Clark is emerging as one of the preferred locations of government and private institutions.
"Clark is not just a city, but a symbol of our nation's aspirations—a gateway to a brighter, sustainable, and more connected Philippines," PCEO Bingcang said.
The BCDA chief, however, emphasizes that there are still boundless opportunities for growth and development in Clark. Among the projects in the BCDA pipeline are the one-square kilometer Clark Central Business District, the 0.22-square kilometer Clark International Convention Center, affordable housing facilities, transit-oriented developments, and digital infrastructure projects.
With the theme "Shaping Cities for our Future," this year's edition of the APCS is one of the largest and most diverse assemblies of global think tanks and key influencers in the region. It serves as a platform where businesses, industries and cities gather together, enabling them to build relationships and effectively contribute to the success and sustainability of cities into the future.
In line with this, the BCDA also had business-to-business meetings with industry leaders in the fields of transportation, sustainable development, tourism, and real estate, among others.
BCDA officials also took this opportunity to learn from the Australian experts on how to manage sports facilities. Brisbane, Australia is slated to be the host of the 2032 Olympic and Paralympic Games.
Earlier, Australian Trade and Investment Commission (Austrade) Senior Trade and Investment Commissioner Christopher Lim expressed confidence in the Philippines' economic growth prospects, and signaled Australia's intent to further strengthen its trade, economic, and education ties with the Philippines.
He said there had been an increase in the number of Australian companies coming into the Philippines, particularly those in the agrifood, education, mining, technology, and cybersecurity business.