CLARK FREEPORT — Fiber internet industry mogul Dennis Anthony Uy is looking into improving online processes of the government and making the Philippines at par with the world's tech-savvy countries.
Uy answered to this writer's question during Converge's 2Q/1H Media Results Briefing on some of his planned contributions to the country's web-based systems.
"I can help in my private capacity. I can help grow the digital transformation of the country. I'm trying to connect the existing platforms already," Uy, Convege co-founder and CEO, said.
The newly-designated special envoy to South Korea for digital transformation made the remarks during the first half briefing of the country's pure fiber internet provider where they disclosed consolidated revenues of P17.4 billion, higher by 8.1 percent from 1H 2022.
"I'm trying to arrange G2G (government to government) to be able to bring transformation from Korea to help us make things happen," he added.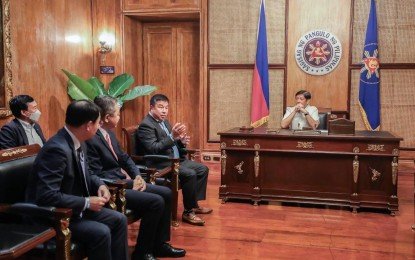 Uy, well known for his enterprise solutions and innovations, disclosed that he has started to spearhead digital transformation for the courts to have an "e-justice system" and the country's immigration processes.
"You can see the hallways of our court sytem, ang daming basura. Ang daming papel. All these should be digitalized already," he said.
He added that he has started to conduct meetings with some of the justices of the Supreme Court for this initiative.
Another project will be to improve the immigration processes at the country's entry and exit ports where "scanning and proper data system" can replace interviews.
"All these should be implemented in the Philippines. This is my role – to help bridge the success and platform existing in other countries," he added.
Uy, recently appointed by President Bongbong Marcos as special envoy, has observed South Korea's digital systems in many of his visits. He has cited the Northeastern neighbor for getting recognition on digital transformation for seven consecutive years by the United Nations.