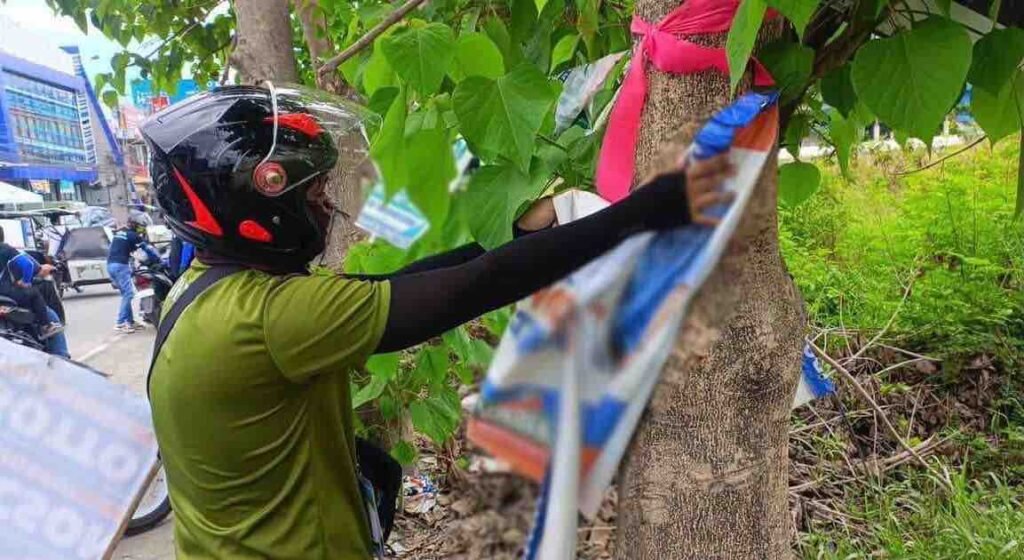 CITY OF SAN FERNANDO – Around 19,646 campaign materials illegally nailed and tucked on trees along main roads and thoroughfares in Central Luzon were taken down by the Department of Environment and Natural Resources (DENR).
"Oplan Baklas" aims to promote environmentally-conscious and trash-free elections, while at the same time save trees.
DENR OIC-Assistant Regional Director for Management Services Laudemir Salac said this initiative started in February, especially in vote-rich provinces including Bulacan, Nueva Ecija, and Pampanga.
"From a science-based point of view, nailing trees with posters may cause their death. This will serve as entry point for insects and pests, which can eventually lead to the destruction or decay of trees. In addition, posters nailed on trees serve as eyesores because they should not be there in the first place," he said.
Aside from saving trees, Salac said Oplan Baklas also aims to minimize election-related wastes generated from tarpaulins, posters, and other campaign paraphernalia, especially if the materials used are non-biodegradable and recycling will not be properly observed afterwards.
With this, he appealed to politicians to educate their supporters to refrain from nailing campaign materials on trees, and instead utilize the common poster areas.
Oplan Baklas is anchored on Republic Act 3571, which prohibits cutting, destroying, or injuring planted or growing trees, flowering plants and shrubs or plants of scenic value along public roads, in plazas, parks, school premises, or in any other public pleasure grounds.
Under Section 3 of the said law, any person found violating this may be punished with a penalty ranging from six months to two years of imprisonment and a fine up to P5,000.
DENR also issued a joint memorandum circular [2013-01] with the Department of the Interior and Local Government and Commission on Elections for the proper management and reduction of volume of garbage generated during local and national elections.
The public may report incidences of illegal posting of campaign materials on trees and other environmentally destructive activities to the nearest DENR office in their area or contact 0945-368-5303.
Personnel of the Department of Environment and Natural Resources takes down campaign materials illegally nailed and tucked on trees along main roads and thoroughfares in Central Luzon under the agency's Oplan Baklas. (DENR Central Luzon)