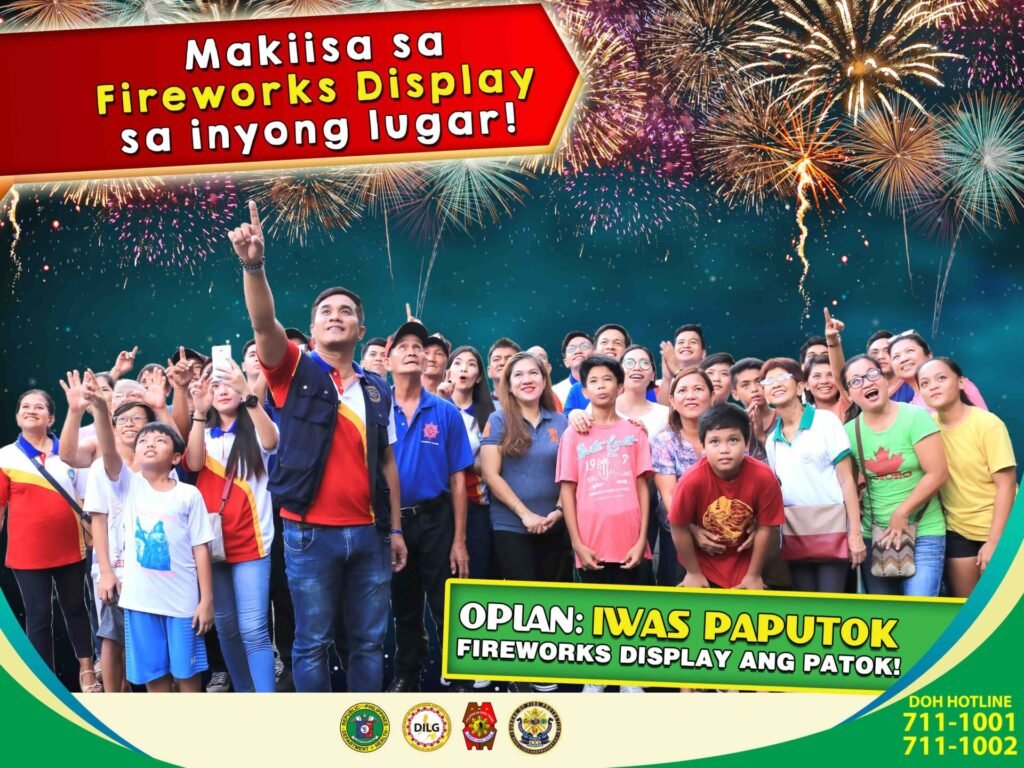 CITY OF SAN FERNANDO — The Department of Health (DOH) appealed to Central Luzon residents to refrain from using illegal or dangerous firecrackers as part of its Iwas Paputok campaign.
DOH Health Education and Promotion Officer Theresa Marie Bondoc underscored that the public may instead use traditional noisemakers in their New Year festivities to save lives and limbs.
"We have many alternatives in welcoming the New Year. They [public] can use kaldero (cooking pots), tambourines, or coins and cans," she detailed.
Other safer options also include noise and light-producing devices such as sound systems, bells, trumpets, and cymbals.
DOH also encouraged local government officials and other institutions to organize community fireworks displays in their vicinity to prevent people from using fireworks and firecrackers in their homes.
"Our local chief executives should identify a place in their community where to do a fireworks display. That is where our residents could flock and watch the fireworks display," she said.
Data from the agency showed that a total of 97 cases of fireworks-related injuries were recorded from December 21, 2020 to January 5, 2021.
There is a 95 percent increase on these incidents in the succeeding year as 189 cases were reported from December 21, 2021 to January 6, 2022.
With this, DOH is anticipating an increase in firecracker-related incidents as people are now celebrating the holidays in the pre-pandemic way.
Bondoc emphasized that hospitals in the region already activated the Code White Alert and made all necessary preparations to prevent and treat possible fireworks-related injuries.
"Our doctors, surgeons, and anesthesiologists are ready in case that we will have emergencies to respond to. Our doctors are always on call to provide immediate medical intervention," she stated.
She reminded that in instances of fireworks-related injuries, the first aid to do is wash the scar with soap and running water, wrap it with clean cloth, and immediately visit the nearest hospital.
Republic Act No. 7183 or an Act Regulating the Sale, Manufacture and Use of Firecrackers and Other Pyrotechnic Devices; and Executive Order No. 28, s. 2017 enumerate the firecrackers which are regulated for sale and use including baby rocket, bawang, el diablo, Judas' belt, paper caps, pulling of strings, sky rocket (kwitis), small triangulo, and other types of firecrackers that are not oversized, not overweight, and not imported.
Pyrotechnic devices that are allowed to be sold and used include butterfly, fountain, jumbo regular and special luces, mabuhay, roman candle, sparklers, trompillo, whistle device, and all other types equivalent to the foregoing pyrotechnic devices.
Meanwhile, prohibited firecrackers are watusi, piccolo, poppop, five star, pla-pla, lolo thunder, giant bawang, giant whistle bomb, atomic bomb, super lolo, atomic triangle, goodbye bading, large-sized Judas belt, goodbye Philippines, goodbye Delima, Bin Laden, hello columbia, mother rockets, goodbye napoles, coke-in-can, super Yolanda, pillbox, boga, kwiton, and kabasi.
Also not allowed to be sold and used are all overweight and oversized firecrackers and pyrotechnic devices (FCPD), all imported finished products, unlabeled locally made FCPD products, and other types of firecrackers with other brands or names equivalent to those that are prohibited.