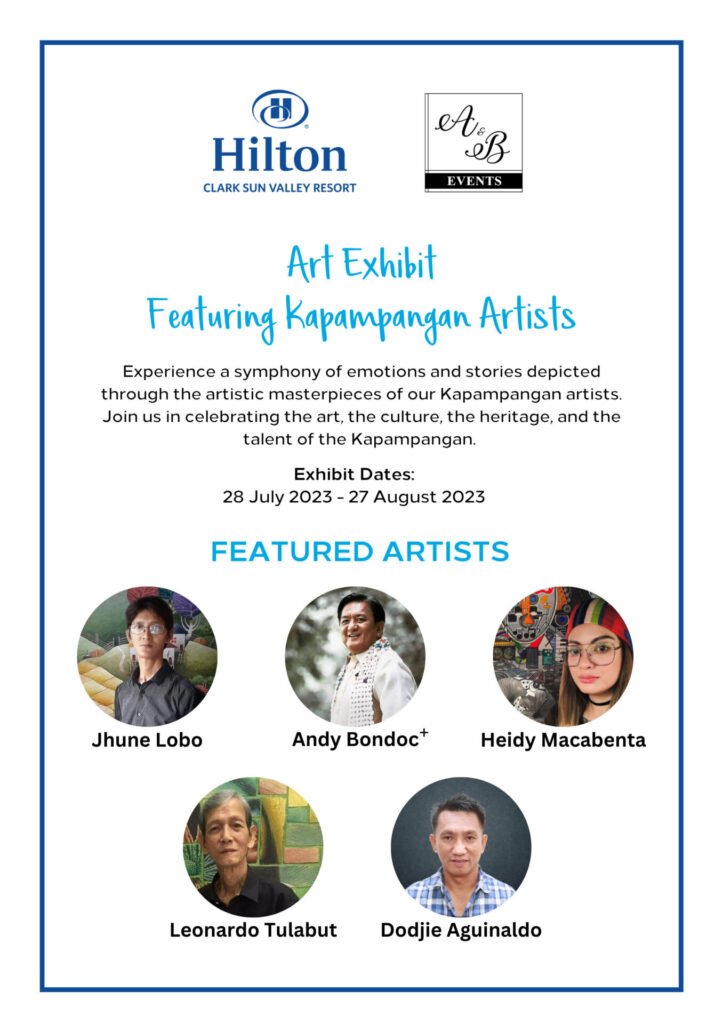 CLARK – Hilton Clark Sun Valley Resort, in partnership with A&B Events, will put a spotlight on the works of local Kapampangan artists by featuring them in an art exhibit at the hotel lobby from July 28 to August 27, 2023.
The masterpieces of five Kapampangan artists — Jhune Lobo, Dodjie Aguinaldo, Heidy Macabenta, Leonardo Tulabut, and the late Andy Bondoc — will be featured in this month-long exhibit.
Jhune Lobo is a self-taught artist from Macabebe, Pampanga. Pushing himself to the limits of his imagination, he developed a signature style that blends his name "Lobo" as seen in the figures of his artworks. His simple and colorful artworks create a peaceful ambience bringing the viewer into another world. His whimsical art seems to create tales in a playful landscape.
The late Andy Bondoc's copper bonsai works will also be on display. His works have been bought and brought around the Philippines and abroad. In fact, Hilton Clark Sun Valley Resort houses two of his copper bonsais in their Governor Suites.
Another featured artist is Heidy Macabenta, an abstract and contemporary Kapampangan artist who likes to "paint as she goes". When looking at her masterpieces, one will see an array of poignant colors, eye-captivating designs, and a fascinating story.
Most Outstanding Kapampangan Awards recipient, 80-year-old Leonardo Tulabut, will also be presenting some of his works. He was always known for his cubism style and he also learned and created pointillism style masterpieces.
And last, but definitely not the least, Dodjie Aguinaldo whose artworks capture the essence of Kapampangan arts, history, and traditions is a self-taught artist who has explored traditional and digital art forms.
"Through this exhibit, we aim to foster a deep appreciation for the arts and provide a platform for our talented Kapampangan artists to shine. We hope that this exhibit will not only captivate your senses but will also spark meaningful conversations and promote a greater sense of community," said Denise Molintas, General Manager of Hilton Clark Sun Valley Resort.