In uproar due to brownout on a hot summer night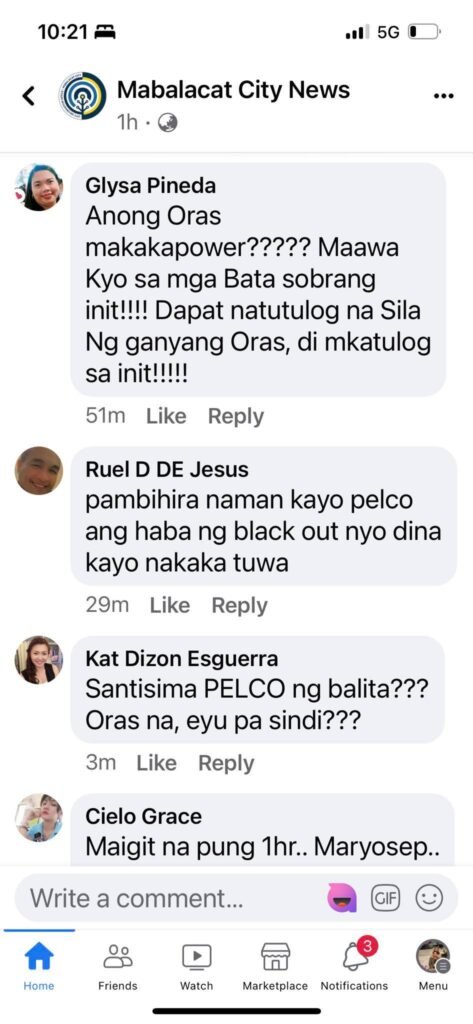 All but 27 barangays of Mabalacat City were thrown in darkness Thursday night.
Service provider Pelco II got tongue lashing from netizens, even as it pointed to NGCP as the reason for the power outage.
In its FB page, Pelco stated:
"Unscheduled Power Interruption on NGCP 69kV Line Mexico- Clark Line 2".
Date: March 30, 2023 (Thursday)
Time Interrupted: 08:32 PM
Status: Ongoing coordination
Affected Areas:
MABALACAT – All Barangays
The total blackout caused an almost unison of messages of outrage, anger and even cussing.
In Mabalacat City News, the FB account of the City Government, Pelco got more than bruises from angered consumers
One Georgina Egina said:
"Grabe pang 3x na ito Mula pa kaninang madaling araw.ang init pa naman. "
This was echoed by many, including one Joseph Valdez said:
"Shout out sayo Pelco II,
Lakas ng trip mo! Kanina ka pa ah!" (As netizens claim that there has been power outages on Wednesday night and the following morning)
Pelco was hit too for not updating consumers on when power will be back.
"Pelco can blame the grid all they want. But we don't need to guess what time they would power up. They should tell us," Victor D. Tiglao II commented.
Adding misery is the water interruption that followed. No thanks to the "unscheduled" outage, water service provider MCWD-Prime Water was caught unready too (for the nth time) with their gensets which should have kicked in to sustain water supply.
Reached for comment on it messaging platform, a bot answered with templates reply.
All three listed numbers in the messaging that were dialled and yielded busy tones and tape recording.
One hour after the FB post was made, a total of 148 comments were posted, majority of which had a common message: "Don't make us suffer Pelco."