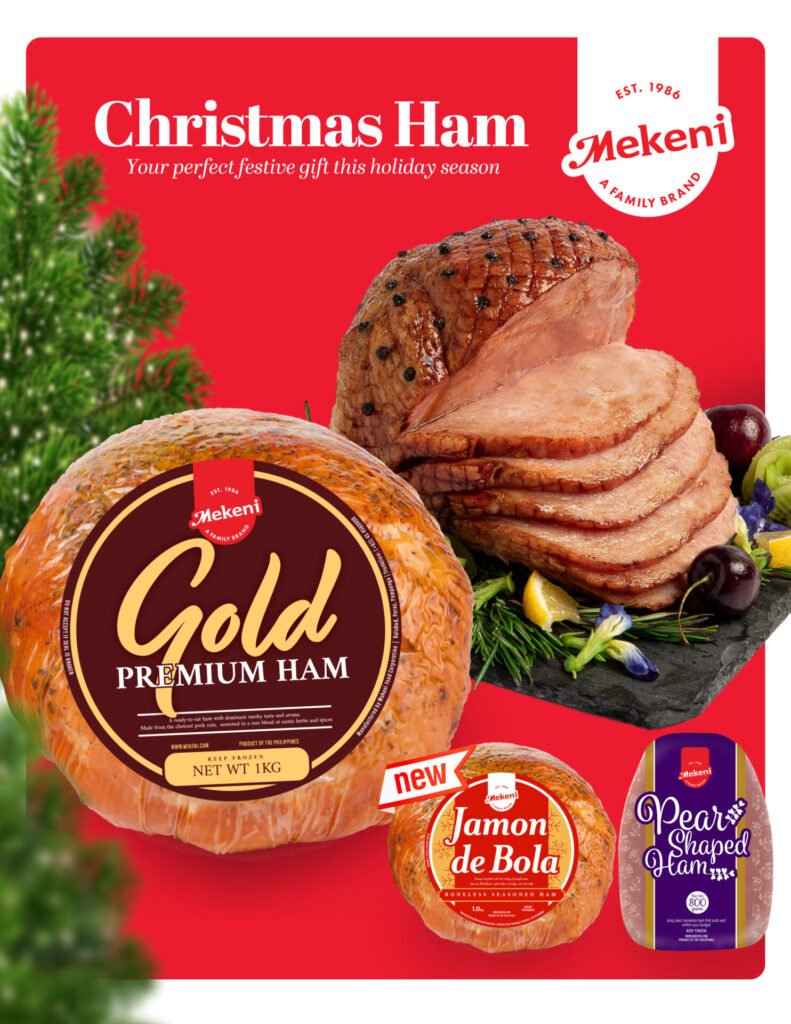 With less than a month away from the Christmas and Noche Buena festivities, many have started planning what food to prepare. For those hosting for family and friends, Mekeni, a Pampanga-based home-grown family brand, is here to help make meals more special and top-notch because of its world-class quality.
Mekeni offers various Christmas ham variants that cater to different preferences and budgets. These seasonal offerings are flexible that they can be incorporated into grazing boards or mini sliders as appetizers or served as part of the main spread.
For those looking to elevate their Noche Buena feast with a succulent and tender holiday classic, there are the ready-to-eat Mekeni Gold Premium Ham (1kg, PHP 520) and Mekeni Deli Premium Ham (1kg, PHP 495) best served as cold cuts. The former is made from the choicest pork cuts and has a dominant smoky taste akin to the traditional smoked ham. Mekeni Deli Premium Ham, on the other hand, has the right balance of sweet and savory taste that everyone in the family will surely love.
The newest Christmas Ham variant of Mekeni is Jamon de Bola (1kg, PHP 345), which has a combination of smoky, sweet, and salty flavors and is glazed with a generous amount of pineapple glaze. It goes well with a charcuterie board or bread even after the holidays.
For the budget conscious but with a discerning taste and prime for quality, there is Mekeni Pear-Shaped Ham (800g, PHP 230) and Mekeni Brick Ham (500g, PHP 160). These hams suit every budget range and are sure to make the holidays more special and festive.
Aside from the seasonal hams, Mekeni also offers other meat products that complete the holiday spread such as Picnic Hotdog, Mekeni Specials Cooked Ham, Mekeni Specials Sliced Ham, and Mekeni Specials Belly Bacon.
The most wonderful time of the year is indeed here. Usher in the holidays and make it truly #TimplangAtin with Mekeni Christmas Hams and other Mekeni products. Head to the nearest wet markets or supermarkets to get these, or place orders via Mekeni Home2Home delivery and Mekeni Factory Outlets. Visit Mekeni's Facebook page to know more!