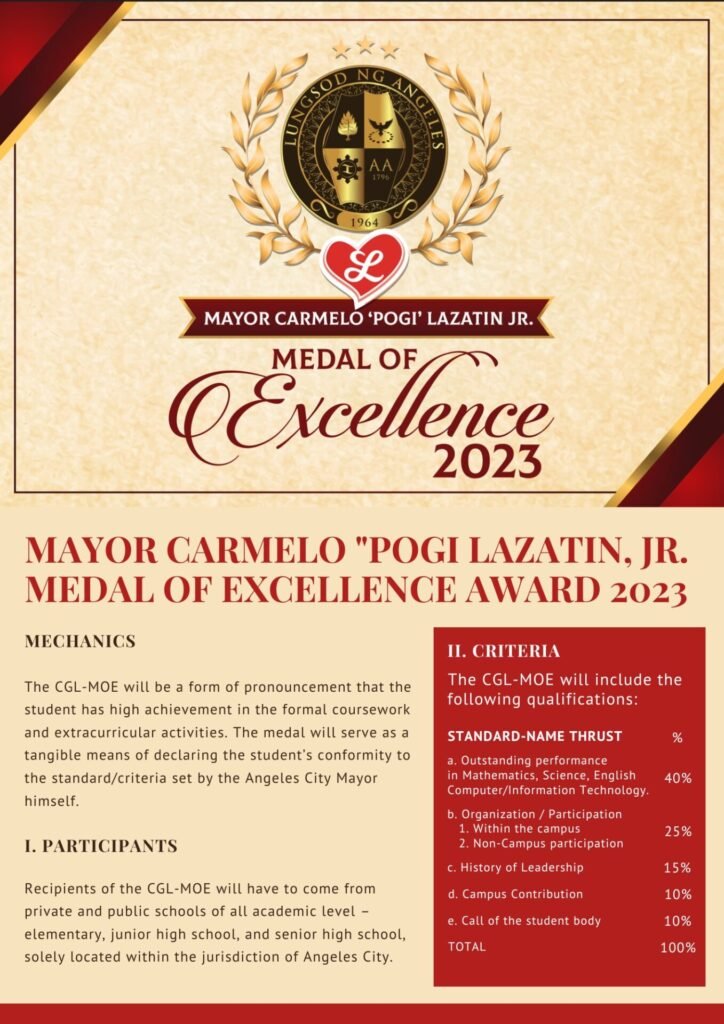 ANGELES CITY – Mayor Carmelo Lazatin Jr. is set to confer Medals of Excellence to student achievers in elementary and high schools in both private and public schools here, for the fourth time since his administration.
Lazatin said that bestowing such awards is a formal pronouncement of the exceptional work of top-performing Angeleño students in the city.
"Recognizing the hard work of the top performing Angeleño students in both academic and extra-curricular activities is our way to motivate them in further valuing the essence of education," Lazatin said.
Recipients of the said awards will come from private and public schools of all academic levels – elementary, junior high school, and senior high school solely located within the jurisdiction of Angeles City.
Awardees are expected to receive the "Carmelo 'Pogi' Lazatin, Jr.'s Medal of Excellence", a certificate of recognition, and financial assistance from the Angeles City government which shall serve as a tangible means of declaring the student's conformity to the criteria set by the Angeles City Mayor himself.
The Angeles City Economic Development and Investment Promotions Office (ACEDIPO), headed by Irish Bonus-Llego, will facilitate the collection of entries from the interested elementary and high school institutions, where they will choose a candidate from a sample of the top 10 percent of their graduating students.
According to Bonus-Llego, the criteria is as follows: 40% for outstanding performance in Mathematics, Science, Computer/Information Technology, and English; 25% for Organization/Participation within the campus and outside the campus; 15% for history of leadership; 10% for campus contribution; and 10% for the call of the student body.
Candidates for the medal must be chosen from a sample of the top 10 percent graduating students of an institution in elementary, junior high school and senior high school levels. Three recipients may be submitted by the school administration—one from the finishing junior high school batch, and one from the finishing senior school batch.
Names of the participants should be personally submitted by a faculty member to the ACEDIPO on or before June 1, 2023 for Private Schools and July 13, 2023 for Public Schools.
Further, in compliance with the city's COVID-19 safety protocols, the ACEDIPO will conduct a house-to-house delivery of the medal, certificate and cash grant to all recipients. Winning school institutions are however requested to include a portion of the "Carmelo 'Pogi' Lazatin, Jr.'s Medal of Excellence" award during their graduation rites.
The late former Angeles City Mayor and Pampanga 1st District Representative Carmelo "Tarzan" Lazatin initiated the award-giving program during his term of office, and Mayor Lazatin sought to continue the program as part of his 6-point agenda is to provide quality education to Angeleños.
"It has been the legacy of my father to elevate the city's educational programs as investment to its development and I will continue to do so," Lazatin said.