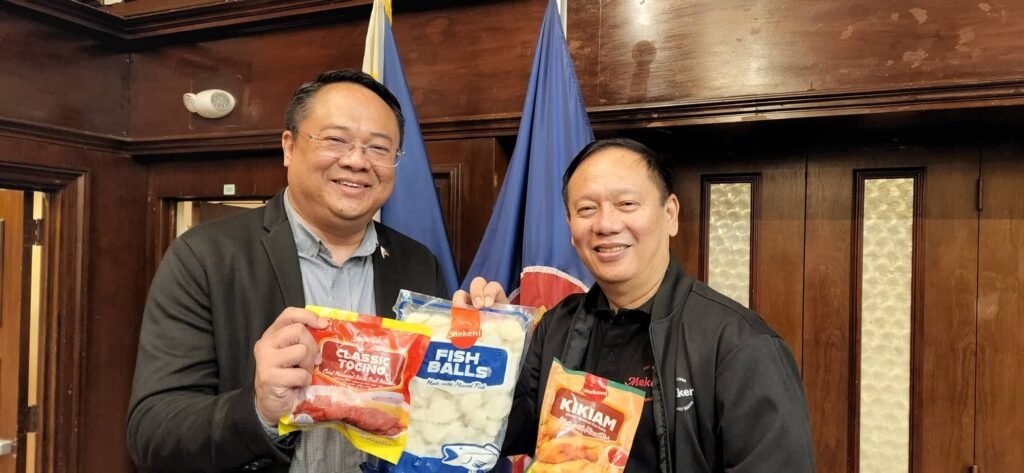 NEW YORK CITY – Leading food processor Mekeni Food International (Mekeni) has continued to penetrate the US market as it starts to sell its tocino and bring so-called marine products at the same time in the East Coast.
Following the retail success of kikiam (also known as fish rolls) and fish balls in the other coast of the US, it will now sell the same products here, neighbor states of New Jersey and Connecticut and other parts of Northeast America.
"We want our kababayans, especially those who have not gone back to our country, to feel closer to home by bringing our products. And we hope, that somehow helps them cope up with homesickness," Mekeni president Prudencio Garcia said.
The multi-awarded food maker on Sunday treated about 100 nannies, caregivers and housekeepers as it gave away bags containing kikiam, fish ball and tocino. They were distributed during "Pagpupugay", a first-ever tribute to care service workers in Northeast America organized by the Philippine Consulate General New York with Mekeni and other partner organizations.
Consul General Elmer G. Cato welcomed this latest business venture by the Porac-based food company.
"It is just the beginning for Mekeni. Our fellow Filipinos here can expect more products from us in the future," concluded Garcia during the awarding of Gawad Alab ng Lahi organized by Hiraya Foundation and the Philippine Consulate General New York.
In January this year, Mekeni started to sell its marine products in the states of California and Nevada through its partner Island Pacific. It has since gained high patronage by the Fil-Am communities in various parts of the West Coast.
Bringing food products to US was met with enthusiasm by the Fil-Am communities.
In its FB account, grocery chain Island Pacific posted: "They (Mekeni) deliver the best-tasting and most authentic Flat Fish Ball and Kikiam in the market! Mekeni Fishball and Kikiam is 100% made in the Province of Pampanga and has been the most dominant street food brand in the market.
Mekeni food products can be bought at Island Pacific stores in Hayward, Long Beach, Temecula, Santa Clarita, Cerritos, Elk Grove, Pittsburgh, Vallejo, Union City, Fresno, National City, Oxnard, Canoga Park, West Covina, all in California as well as in Las Vegas, Nevada.
In the East Coast, dealership inquiries and orders can be made with NorthRidge Foods at 626-7890715 and northridge8@gmail.com or Ms. Rita Calubayan of CEE Enterprises Inc. located at 4201 Tonelle Avenue, North Bergen, NJ 08047.