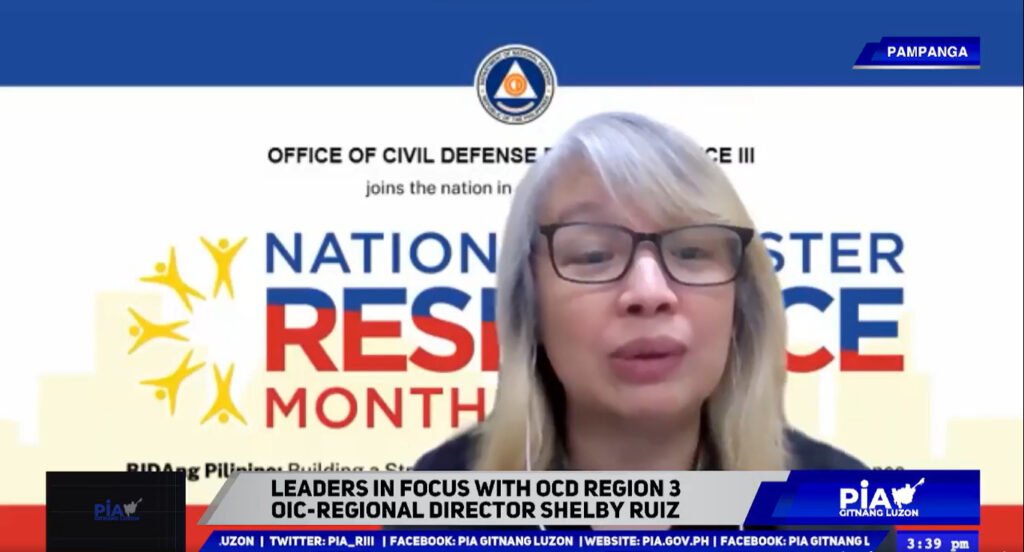 CITY OF SAN FERNANDO — The Office of Civil Defense (OCD) underscored the importance of disaster resilience among communities in Central Luzon.
Resiliency is a quality that each Filipino must embody to recover quickly from any possible calamity.
OCD OIC-Regional Director and Regional Disaster Risk Reduction and Management Council Chairperson Shelby Ruiz said being resilient shows stability, strength, and the ability to return to normal life or situation despite experiencing hardships, especially after a disaster.
She added that Central Luzon is prone to hydrometeorological hazards such as typhoons, thunderstorms, heavy rainfalls and tornadoes which can cause floods, landslides and damages to agriculture and infrastructures.
The region may also experience human-induced hazards including possible technological disasters.
It may likewise suffer from biological hazards especially the emerging and re-emerging infectious diseases such as dengue, leptospirosis, and COVID-19.
With this, OCD is conducting various capacity-building activities to national government agencies, local government units, and civil society organizations.
"We also conduct IEC [information, education, and communication] activities, contingency planning workshops, and simulation exercises," Ruiz added.
Meanwhile, the official shared that they organized various activities in line with the observance of National Disaster Resilience Month (NDRM) this July.
These include the One for Treesilience tree planting activity on July 19; NDRM webinar on July 21; and the NDRM 2023 Resilience Forum on July 31.
Executive Order No. 29, series of 2017 designates July of each year as NDRM.
This year's observance carries the theme "BIDAng Pilipino: Building a Stronger Filipino Well-being towards Disaster Resilience."