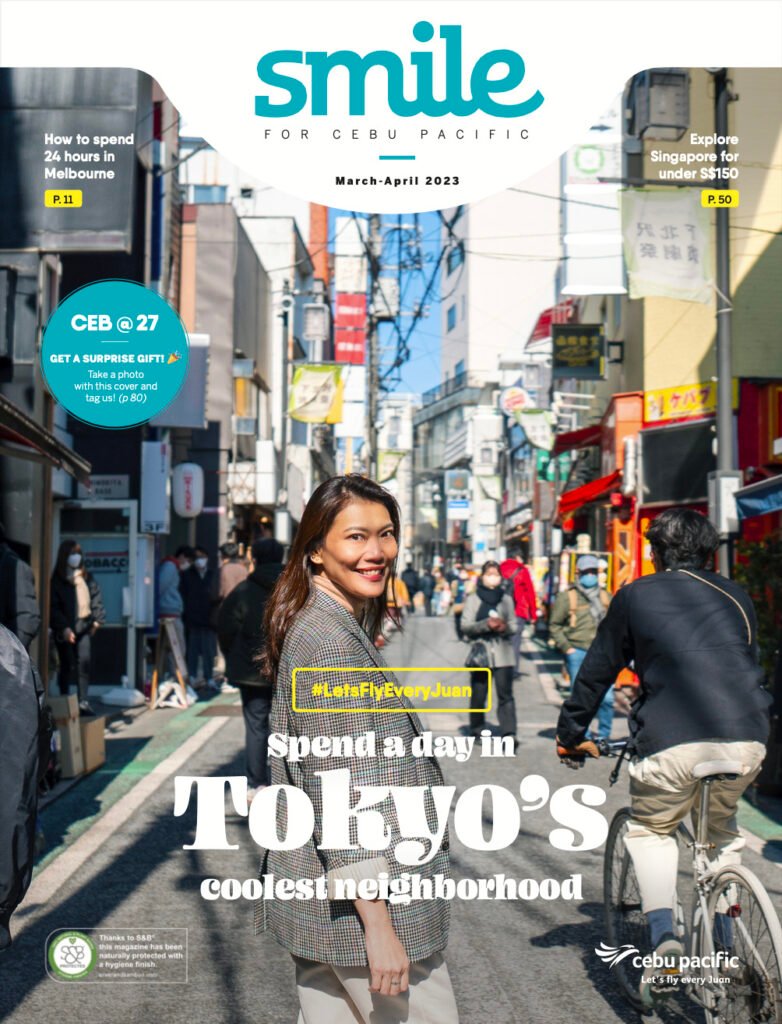 Cebu Pacific's inflight magazine, Smile, is returning to the skies with an exciting new chapter to bring fun surprises for new and long-time readers.
Smile will have a fresh look in March 2023, in time for CEB's 27th anniversary, according to global travel media specialists Ink.
Even better, CEB and Smile are giving away gifts to readers of the March-April issue that will surely, and quite literally, take them to places.
The magazine has been reinvented to reflect travel in the modern era and celebrate the very best of the Philippines and beyond. In the succeeding issues, Smile will be helmed by incoming editor-in-chief Joanna Manalastas, previously of SPOT.ph.
From striking, first-person led covers and in-depth experiential features to insider tips from locals across CEB's extensive network, the new-look Smile gets you closer to the action than ever before.
"Smile has brought joy and entertainment to Cebu Pacific's passengers throughout the years, making their flights more fun and bearable. We're excited to see the new destinations, cultures, and people that the magazine will showcase that will surely put a smile on every Juan's faces," said Candice Iyog, Cebu Pacific Chief Marketing and Customer Experience Officer.
"We're thrilled to be bringing Smile back and extending our long-running partnership with Cebu Pacific. Inflight magazines are a beloved and irreplaceable touchpoint for passengers looking for inspiration for their next trip, as well as businesses and brands looking to reach a highly desirable audience. People keep asking us when Smile is returning and we're extremely happy to now be able to say 'very soon,'" Michael Keating, Ink's CEO, added.
Catch the newest issue of Smile on your upcoming flight this March and April for a chance to receive a special gift from CEB. Simply take a photo of the magazine and share it on Instagram with hashtags #SmileWithCeb and #SmileMag.
CEB is set to restore 100% of its pre-COVID network and capacity in March 2023. It now flies to 34 domestic destinations and is set to reinstate all its 25 international destinations in the first quarter of the year.