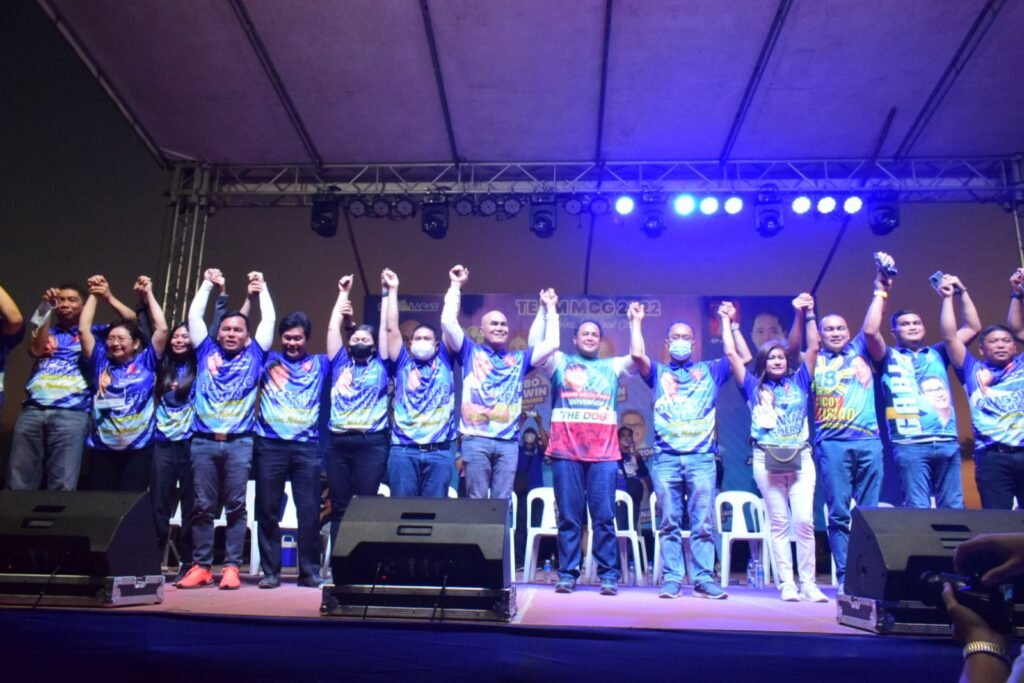 MABALACAT CITY – A convincing win is seen for Team MCG on Monday's elections, owing to very high satisfaction ratings with at least three surveys in their favor, overwhelming support from various sectors, and the large attendance in rallies during the campaign.
Three Public Opinion Surveys (POS) conducted before and during the campaign period showed that the Team MCG was consistent with huge leads over opponents for local positions, with incumbent Mabalacat City Mayor Crisostomo Garbo and Vice Mayor Gerald "Geld" Aquino being highly favored as voters' preference.
The most credible survey was conducted by PROBE which was commissioned by a top corporate firm that is known to be non-partisan in any elections.
"All roads point to just one direction and that is an overwhelming win for Team MCG come May 9. With the victory comes just not approval for Mayor Garbo and his team but also a go signal for them to sustain programs and goal to help improve lives of the Mabalaquenos" said Fiel Sacay, leader of the Ibalaus ing Bayung Mabalacat Movement (IBMM).
In the PROBE survey, Garbo garnered a whopping 75.5% of the overall responses. Marino Morales was far second with 19 %, while Deng Pangilinan had 3.5 %.
The incumbent city mayor is also the top choice of population Class ABC (80%), D (77.8%), and E (64.3%) and secured his lead for the 18-29 age group (76.9%), 30-49 age group (77.9%), and 50 above (70.7%).
For the vice mayoralty race, Vice Mayor Gerald Aquino continues to enjoy his lead at 71%. The incumbent vice mayor remains the top vice mayor bet of population Class ABC (60%), D (75%), and E (73.8%). He also cemented his place as the most preferred vice mayor of the 18-29 age group (80%), 30-49 age group (64.9%), and 50 and above (69%). Aquino's nearest competitor, Christian Halili, only got 28% of the total number of responses.
Furthermore, the Team MCG council slate continues to dominate the Sangguniang Panlungsod (SP) candidates. Leading the pack is Jun Castro (73%), Cherry Manalo (47.5%), Noel Castro (43%), Marjorie Sambo (38%), Jerry Magsino (35.5%), Liza Pineda (32.5%), Timothy Dee (31.5%), Carl Dizon (21.5%), Doc Cocoy Tiglao (21.5%), and Rox Peña (17.5%).
Aside from the PROBE poll, Team MCG also topped voter preference surveys conducted by another known election pollster Argus and a local polling firm. Surveys conducted in educational institutions also showed the same favorable results for Team MCG. These includes the mock elections at Holy University University where Garbo got 246 votes while Morales and Pangilinan got 44 and 22 votes, respectively.
Meanwhile, outgoing Councilor Win-Win Garbo (43.5%) and re-electionist Benjamin Jocson (25.5%) remain the top choices for the Provincial Board Member seats, receiving the majority of voting preferences of respondents from Angeles City, Mabalacat City, and the town of Magalang.
For their part, both Mayor Garbo and Vice Mayor Aquino said the overwhelming turnout of the survey manifests Mabalaqueños' will to continue the vision of the current administration anchored in the "Bayung Mabalacat" battlecry.
The Team MCG also earned the support of various sectors in the city, the recent being from bishops, pastors, ministers, and other laity leaders of the Association of United Christian Churches in Angeles and Mabalacat (AUCCAM), the Angeles City Pastors Association (ACPA), Central Luzon Pastors Association for Tribal Missions (CLPATM), including leaders and representatives from the youth and LGBTQIA+ sector.
In supporting Team MCG, AUCCAM has recognized the unwavering efforts of the city officials in uplifting the way of life of Mabalaqueños through various programs and services.
Meanwhile, thousands took part in the opening salvo of Team MCG, with the huge crowd becoming a façade of the overwhelming support of Mabalaquenos to the current administration's brand of leadership and public service.
Garbo said the massive crowd in attendance represented a crusade for continuing reforms in governance and upliftment of public welfare.
With a fresh mandate in the offing, the city mayor and the entire Team MCG slate have vowed to continue all programs, especially in areas of infrastructure, medical, health, social service, and livelihood, for which the administration is aptly known for.