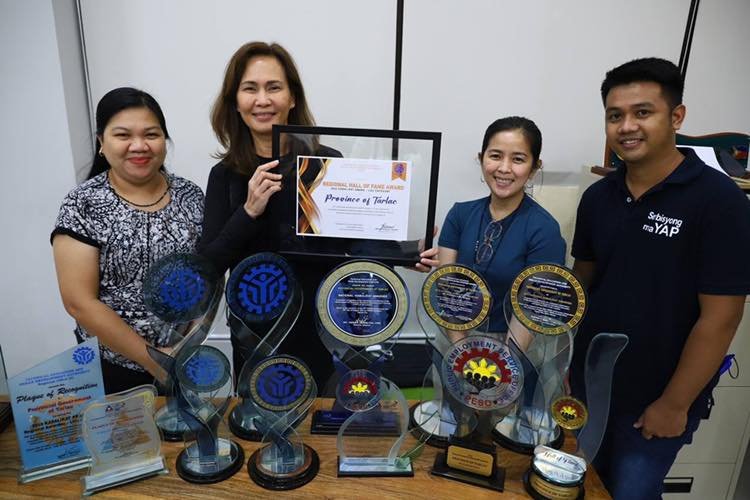 The Technical Education and Skills Development Authority (TESDA) has cited anew the Provincial Government of Tarlac for its commitment to the training of its constituents.
The Tarlac LGU was awarded as the Regional Hall of Famer under the Local Government Unit category during the recent awarding ceremony held at the City of San Fernando.
The Regional Kabalikat award is the fifth for Tarlac province.
The award was personally received by Governor Susan Yap from TESDA Tarlac Provincial Director John Adawey at the Diwa ng Tarlac, as the governor was not able to make it during the awarding ceremony because of a previous commitment.
The award for the province was for consistently garnering the highest rating in a five-year period and for the exemplary contribution in the advancement of Technical Education Training in Region III.
Yap was elated that another TESDA Kabalikat award was received by Tarlac and vowed to continue her advocacy in skills training for Tarlaqueños.
Other years that the Kabalikat award was received by the province was in 2015, 2017, 2018, 2019, and in 2021.
Meanwhile, Tarlac bagged seven gold and two silver medals won by TVET institutions – First Tarlac Technological Institute Inc.; Provincial Training Center–Tarlac; Concepcion Vocational School; Colasito Academy of Business & Technology Inc.; Tarlac School of Arts and Trade Inc.;
Supreme School of Culinary Arts & Technology Inc.; and Philippine Women's University Tarlac.
It has also won one medallion of excellence which was awarded to Northridge Institute of Business and Technology, Inc.