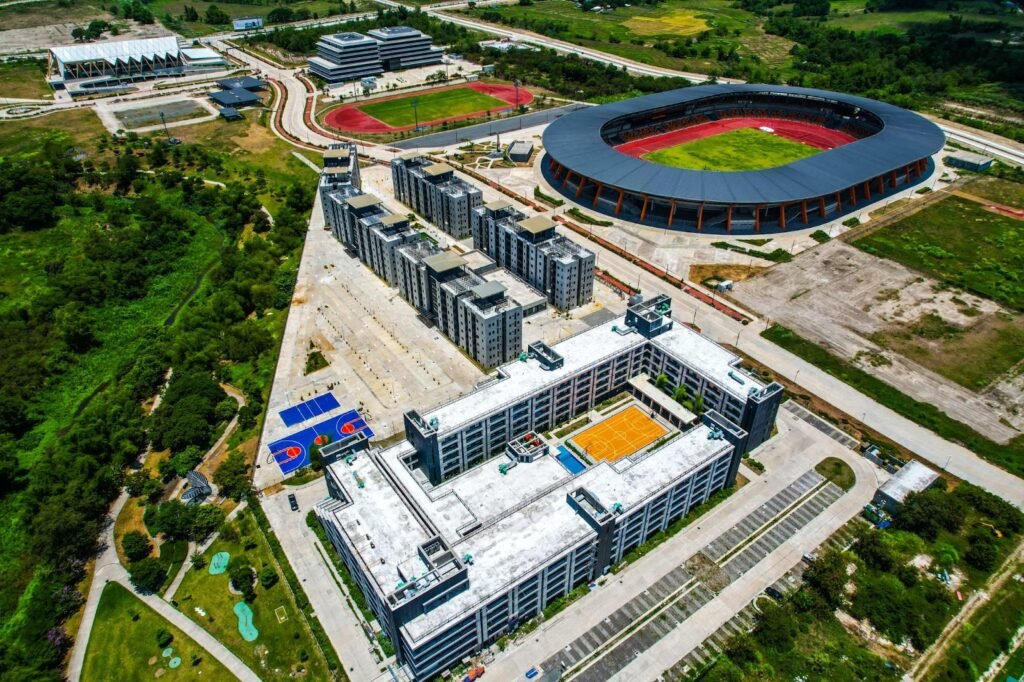 Anchored on the economic agenda and the Build Better More program of the current administration, the Bases Conversion and Development Authority (BCDA) seeks to harness the potential of New Clark City into a smart, sustainable and inclusive city that will help in further accelerating growth in Central Luzon.
To realize this goal, the BCDA has lined up several high-impact projects and programs in New Clark City, particularly in the fields of sustainable development, renewable energy, information and communication technology (ICT), estate management, transportation, tourism and smart city technologies, among others.
"The new BCDA leadership fully supports the Marcos administration's 8-point socio-economic agenda as reflected in the Philippine Development Plan 2023-2028, and its mission to propel economic and social transformation in the country in order to provide more jobs and lift more Filipinos from poverty. New Clark City is BCDA's answer to reach this goal. Through the development of New Clark City, we not only strive to decongest Metro Manila, but we will also provide a catalyst to spread growth in Central Luzon and other provinces," BCDA President and Chief Executive Officer Aileen R. Zosa said.
Once fully developed, New Clark City is projected to become the home of about one million residents, and provide job opportunities to around 600,000 Filipinos.
PCEO Zosa, however, emphasizes the importance of building strong partnerships with other government agencies, the private sector, and foreign allies to accelerate the development of New Clark City.
"New Clark City is a massive undertaking that the BCDA cannot do alone. We need the support of our partners in the public and private sectors to implement our programs and projects and ensure that Filipinos will really get the world-class metropolis they deserve," she said.
As of end-2022, investments committed by private and government locators in New Clark City has reached Php 95.51 billion, while actual investments infused have already hit Php 14.59 billion.
Ongoing projects
Despite the setbacks caused by the pandemic, the BCDA and its partners continued their efforts to spur the development of New Clark City.
Private partners are now forging ahead with their developments in the area, including Filinvest Land Inc. with its 288-hectare mixed-use township project, and Hann Development Corp. with its ultra-luxury mountain reserve project, which will feature the country's first Banyan Tree.
The Bangko Sentral ng Pilipinas is also moving forward with its plans to establish a 31.3-hectare complex complete with a currency production facility and state-of-the-art security system.
The BCDA has allocated a five-hectare lot for the proposed Virology and Vaccine Institute of the Philippines, one of the top priorities of the Marcos administration for the health sector.
In a move to strengthen the capability of future workforce through education, research and skills-training that are needed by locators, New Clark City is also welcoming educational institutions. So far, the National Academy of Sports, University of the Philippines, and Philippine Science High School have already started construction work.
With the help of the United Kingdom government, the BCDA is positioning New Clark City as a model of sustainability, preparing the groundwork for a green centerpiece which would become the country's largest public park.
BCDA is also gearing up to put New Clark City in the global map as an investment hub and sports tourism destination as it hosts regular business missions and sporting events in its facilities.
Connectivity, being a crucial component of the development, has also taken priority with multiple roads constructed to ease travel and link New Clark City to the Clark Freeport Zone and the Clark International Airport.
BCDA has also formed a partnership with Japan's New Energy and Industrial Technology Development Organization for a three-year demonstration on smart mobility solutions to be implemented in New Clark City.
Projects in the pipeline
"But the work does not stop there. In order to realize our vision of making New Clark City into a smart, sustainable, and inclusive metropolis, BCDA is pursuing various projects in different fields, and we hope the private sector and our foreign partners will consider this development for their investment needs," PCEO Zosa said.
Championing sustainability in New Clark City, BCDA is currently looking for partners to build a 25-megawatt solar farm that will augment the energy supply for locators in the area.
BCDA is also keen on a solid waste management and waste-to-energy project, which will entail the provision of a waste collection service and operation of existing assets within a sanitary landfill site in New Clark City.
Meanwhile, BCDA also recognizes the need for a highly efficient internet service in New Clark City if it intends to develop the area into a smart metropolis.
In line with this, the state-run corporation seeks to build telecommunication infrastructure for common use of internet service providers, connecting locators and residents through a high-speed network. This project will leverage the existing ICT framework under the Luzon Bypass Infrastructure Project developed in partnership with Facebook.
BCDA is also searching for a private sector partner to design, develop, and manage a data center colocation facility.
To cut red tape and provide world-class services to its locators, BCDA is planning to implement a technology-based, automated, and real-time estate management service in New Clark City.
Private partners are also welcome to participate in BCDA's affordable housing project in the rising metropolis, covering 34 hectares of land with 6,000 units for a mixed-income population.
As part of efforts to improve connectivity, BCDA is inviting consultants to help in the transport-oriented development of New Clark City and the establishment of multimodal transport stations.
And lastly, BCDA is exploring partnerships in the fields of research and development, particularly biotechnology, pharmaceutical, and medical science facilities; ecotourism; and mixed-use, retail, and food and beverage establishments.
"New Clark City is open for business. We are hoping the private sector puts their trust in the BCDA's capacity, and track record when it comes to building great cities, and participate in projects that will further advance New Clark City and Central Luzon," PCEO Zosa said.