WARNING: Some viewers may find the following photos disturbing, sensitive, and traumatizing. Please be guided.
ANGELES CITY — The city government will file charges against some residents of Barangay Lourdes Sur for slaughtering a dog for consumption. 
Mayor Carmelo "Pogi" Lazatin, Jr., said he is condemning the illegal act of killing dogs for food. 
"This is not acceptable. Dito po sa Angeles City, binibigyan natin ng kahalagahan at respeto ang buhay ng bawat isa, tao man yan o hayop," Lazatin said.
The report was received by Vice Mayor Vicenta Vega-Cabigting, who coordinated with the Mayor's Office. 
Upon the order of Mayor Lazatin, his Chief Adviser IC Calaguas and Executive Assistant IV Reina Manuel, who are both known as an animal advocates, dispatched a response team headed by Eder Pasamonte from the City Veterinary Office-Dog Pound Division to the area. 
Calaguas said Mayor Lazatin wants to take action on this immediately, for charges to be filed against persons responsible for the act.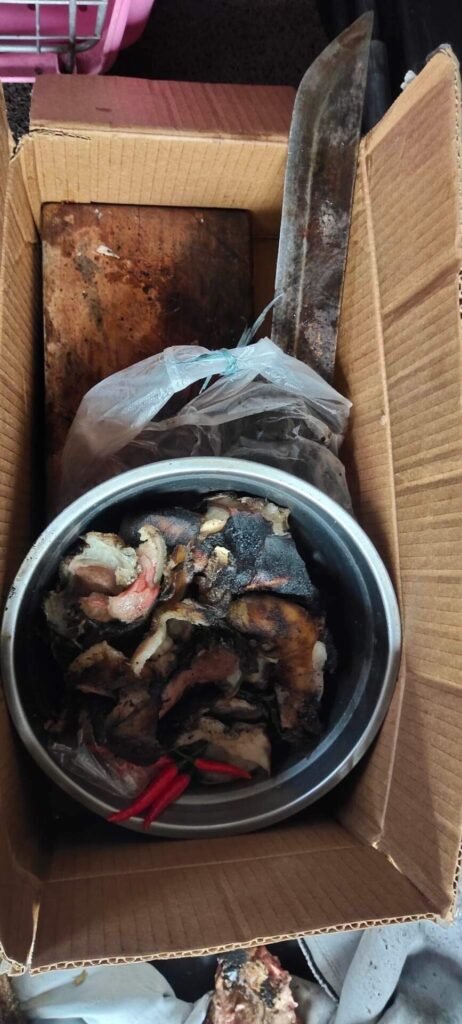 According to the blotter report in the barangay, the alleged suspects are identified as Amelito Henson, Amorsolo Guevarra, and Jerry Mari.
"The killing and selling of dogs for food is illegal in the Philippines. Hindi po tama ito, hindi po ginagawang pulutan ang aso. This act is barbaric, primitive, and inhumane," Calaguas said. 
This was also echoed by Manuel, saying "hindi deserve ng aso na gawin lang ganito. They are pets who deserve to be loved and cherished." 
Pursuant to the Animal Welfare Act in the Philippines and the Anti-Rabies Act — sourcing, trading, slaughtering, butchering, and meat preparation of dogs are prohibited.
Lazatin sternly warned those engaging in this kind of merciless act in the city to shut this down.
Part of the priority programs of the Lazatin administration is to put premium on animal welfare, providing programs like free anti-rabies, neutering and spaying, and improving the animal pound facility.
Upon the instruction of Mayor Lazatin, City Councilor Atty. Arvin Suller filed a city ordinance entitled Angeles City Animal Welfare and Protection Code that will strengthen the prohibition of sourcing, trading, slaughtering, butchering and meat preparation of dogs.