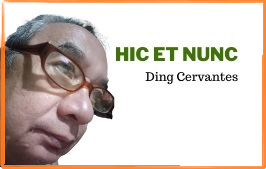 In Canada and the US, coronavirus vaccinations are being imposed on certain groups, such as federal workers. In the Philippines, some copycats followed with extremist proposals to make coronavirus jabs mandatory for all, with exceptions almost as rare as the vaquita.
Online, jeers mounted. Comments on news that San Jose del Monte City Rep. Rida Robes had filed such bill were in tones of rage, even cruelty. One proposed to make her a board to be targeted by syringes filled with assorted coronavirus vaccines as darts. Another suggested that she be made answerable for every negative side effect of vaccinations, including death. Yet another wanted her to down gallons of Sinovac solution.
Why can't some supposedly prominent Filipinos understand that all coronavirus vaccines remain only under emergency use status, meaning humans thus are virtual laboratory guinea pigs, teetering on mere prayers the jabs would not endanger their health, even lives, in the long term?
All the vaccines were engineered to combat the original strain of the coronavirus; otherwise, the "experts" would not fret, almost panic, over reports of new virus variants, such as the Delta, which now finds loopholes in the protection provided by the vaccines, resulting in "breakthrough infections."
And yes, Robes and her ilk must google more to stumble across a growing number of medical experts warning that vaccines could yet take a swerve to reverse their reasons for being. She would probably encounter online Dr. Byram Bridle, professor of Viral Immunology University of Guelph, who said "We finally learned how and where the Vaccine antibodies are stored in the body" and that "the spike protein in Vaccines can kill you."
Robes would have had second thoughts had she read Bridle saying further: "The infamous spike protein of the coronavirus gets into the blood where it circulates for several days post-vaccination and then accumulated in organs and tissues including the spleen, bone marrow, the liver, adrenal glands, and in quite high concentrations in the ovaries; a large number of studies has shown that the most severe effects of SARS-CoV-2, the virus that causes COVID-19, such as blood clotting and bleeding, are due to the effects of the spike protein of the virus itself."
And the congresswomen would rather have left matters to prayers had she read a medical article titled The Risks of Rushing a COVID-19 last year, with the following excerpts:
"The excitement and enthusiasm for a COVID-19 vaccine by the end of 2020 is both palpable and understandable. We all hope for a rapid end to the pandemic and an effective vaccine would be a surefire solution. But there are risks that come with a fast-tracked vaccine delivered end of this year, not the least of which are the risks related to the safety of the vaccine itself.
"…One serious adverse event per thousand of a vaccine given to 100 million people means harm to 100,000 otherwise healthy people….
"Aside from questions of safety that attend any vaccine, there are good reasons to be especially cautious for COVID-19. Some vaccines worsen the consequences of infection rather than protect, a phenomenon called antibody-dependent enhancement (ADE). ADE has been observed in previous attempts to develop coronavirus vaccines. To add to the concern, antibodies typical of ADE are present in the blood of some COVID-19 patients. Such concerns are real. As recently as 2016, Dengavxia, intended to protect children from the dengue virus, increased hospitalizations for children who received the vaccine.
Robes filed on September 20 House Bill No. 10249, seeking to mandate Covid-19 vaccines on all Filipinos and residents of the Philippines who are eligible to receive the vaccine.
Citing the World Health Organization, Robes said it is not uncommon for governments and institutions to implement mandatory vaccination of Covid-19 and that it can be considered "ethically justified" to protect the health and well-being of the public.
It wasn't the first attempt at stupidity. Last April, House Bill No. 9252 or the proposed COVID-19 Vaccination Program Act of 2021 also mandated "science- and evidence-based" inoculation for persons "as may be determined" by the Department of Health (DOH).
The bill was filed by Cavite 4th District Representative Elpidio Barzaga Jr., who said in a statement that "the State is mandated to make rules and regulations to protect the lives of the majority of its citizens."
Barzaga proposed that exemptions only cover those with medical conditions and people deemed by doctors as safer without inoculation.
At one time, even Pres. Duterte also threatened to order the arrest of those who refused to get vaccinated against Covid-19, describing them as "potential carriers" of the deadly virus.
Presidential Spokesperson Harry Roque said it would be "easy" for the Palace to request lawmakers to pass a measure that would make vaccination against Covid-19 compulsory, stressing that it is key to controlling infections.
It seems that the Philippines is likely to join the bandwagon of the marked, so as to retain the privilege to buy or sell or both, as the unvaccinated – with hope that time would vindicate their reasons for repudiating vaccinations – go underground amid the hunt for the unjabbed.