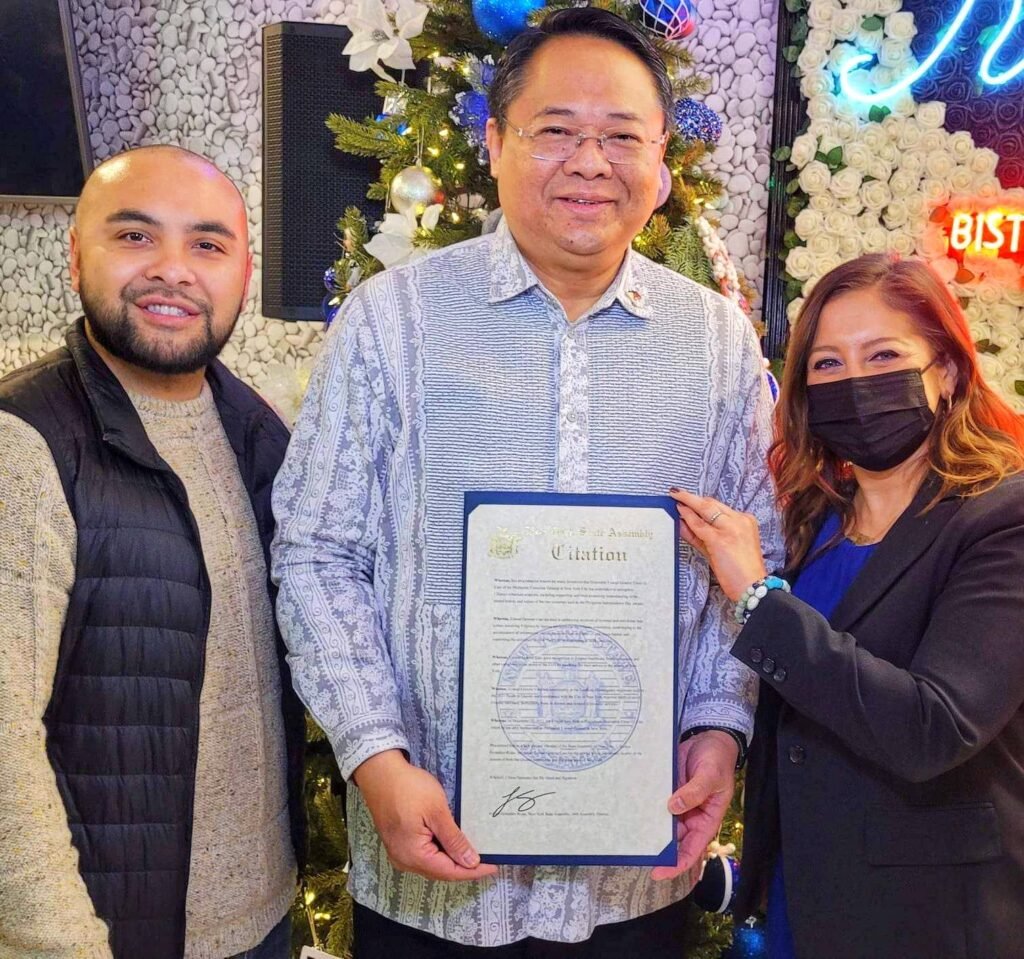 ANGELES CITY – Journalist-diplomat Elmer G. Cato has been cited for his achievements during his stint as Consul General of the Philippine Consulate General in New York City, particularly his efforts to "combat the rise in anti-Asian bias fueled by Covid-19 misinformation".
Cato will be taking over as Consul General of the Philippine Consulate General in Milan.
New York City Mayor Eric Adams and other officials of New York and New Jersey recognized Cato's role in looking after the Filipino-American Community during the COVID-19 pandemic and the surge in anti-Asian hate.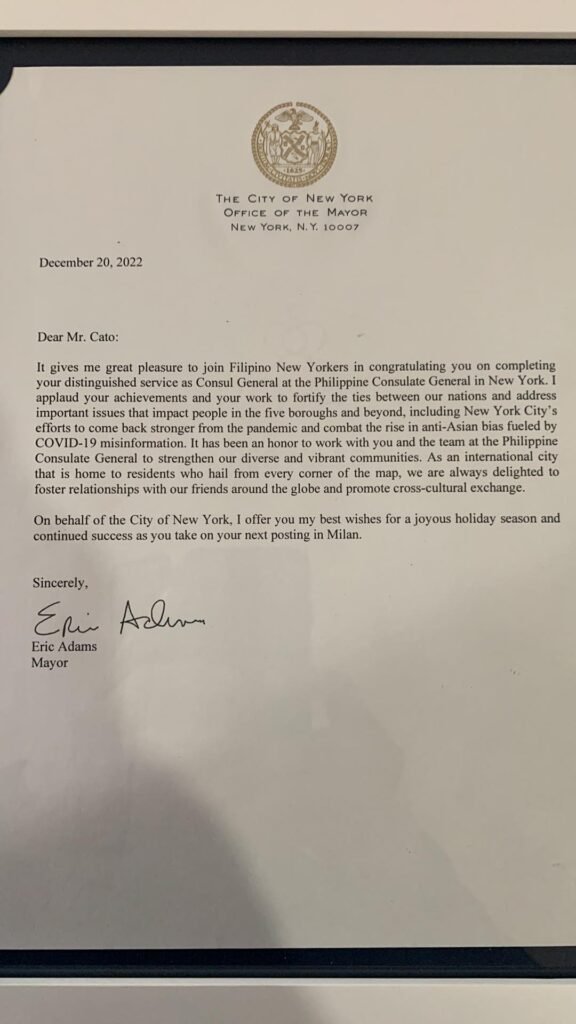 "I applaud your achievements and your work to fortify the ties between our nations and address important issues that impact people in the five boroughs and beyond…" Adams wrote in his letter to Cato dated December 20, 2022.
He was also commended by the Sangguniang Panlungsod (SP) of Angeles City for his achievements during the one year and eight months he had served in New York.
Adams stated, "It has been an honor to work with you and the team at the Philippine Consulate General to strengthen our diverse and vibrant communities."
New York State Assembly Representative Jessica Gonzalez-Rojas presented Cato with a citation, commending him for promoting the shared history and values between the United States and the Philippines and in the fight against the pandemic and racial discrimination.
In her citation, Gonzalez-Rojas also specifically mentioned the efforts of Cato in recognizing Filipino healthcare frontline workers and other caregivers, disaster and emergency response in the 2021 flooding incident in Queens, assistance to Filipino nationals "particularly those in distress and in need of consular services."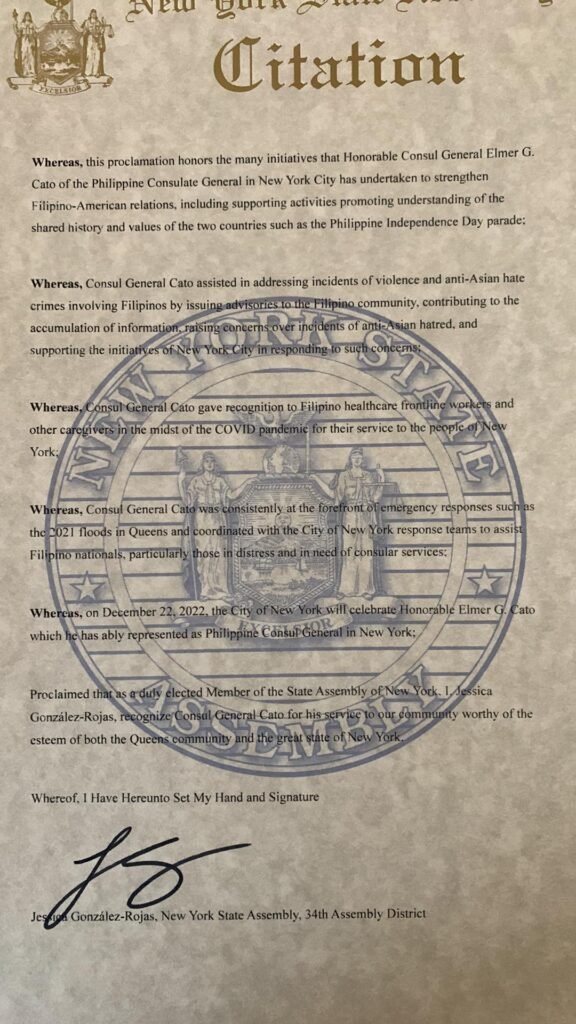 "The City of New York will celebrate Honorable Elmer G. Cato which he has ably represented as Philippine Consul General in New York," Gonzalez-Rojas wrote in the citation.
Newly-elected New York Assembly Member Steven Raga, the first Filipino-American to be elected to the state legislature, also commended Cato for his performance, particularly his effective outreach efforts among members of the Filipino Community.
Officials of Bergen County in New Jersey also praised Cato for his leadership and for [his] "unwavering dedication by empowering Filipino community."
Bergen County Executive James J. Tedesco, III presented Cato with a commendation "in honor and recognition of your outstanding leadership, exemplary commitment and your unwavering dedication by by empowering Filipino community and your determination to fight for basic rights, to help build the lives of many and in appreciation of your incredible leadership that gained you respect within the Filipino community."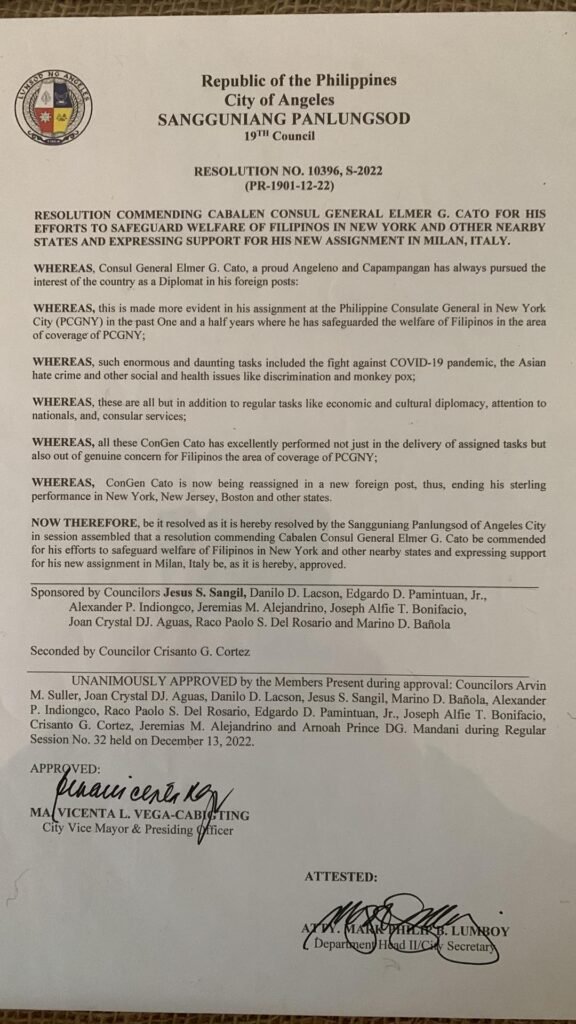 For its part, the SP of Angeles City unanimously approved a Resolution recognizing the work of Cato in New York and nearby states.
Mainly authored by Councilor Jay Sangil, the City Council cited Cato's efforts "where he has safeguarded the welfare of Filipinos in the area of coverage of PCGNY."
"Consul General Elmer G. Cato, a proud Angeleno and Capampangan, has always pursued the interest of the country as a Diplomat in his foreign posts," the Resolution stated.
The Filipino Community also feted Cato on Thursday during a send off event at the Charthouse Restaurant in New Jersey that was attended by close to 200 members of the Filipinos from New York and New Jersey.