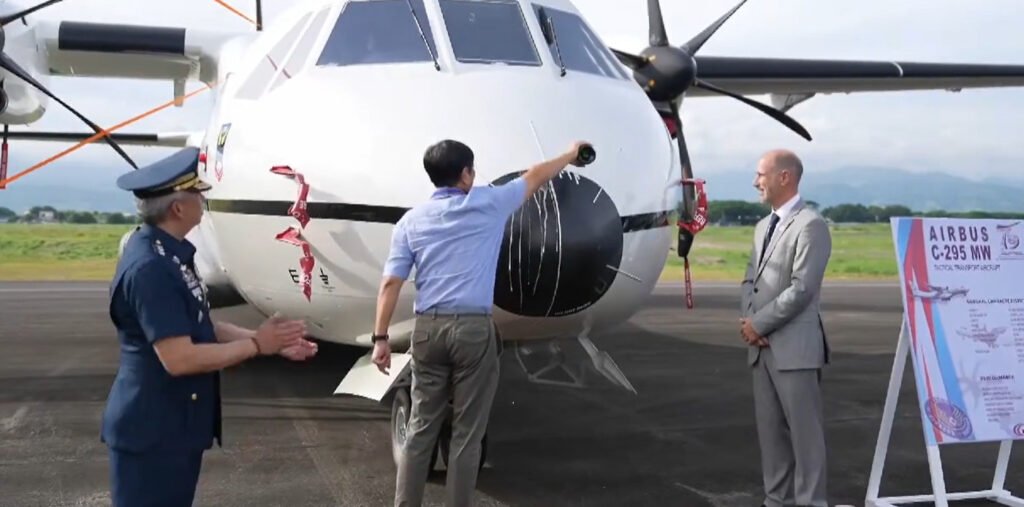 FLORIDABLANCA, Pampanga – President Ferdinand R. Marcos Jr. witnessed the joint acceptance, turnover and blessing of various land and air assets acquired by the Philippine Air Force (PAF) in a ceremony at the Basa Air Base in Floridablanca, Pampanga on November 8, 2022.
The newly acquired land and air assets include the Rafael SPYDER (surface-to-air python and derby) ground-based air defense system (GBADS) and a new Airbus C-295W medium lift aircraft.
The ceremonies highlighted a new milestone for PAF to operate its own sophisticated ground missile-based air defense system and showcase its new C-295W aircraft, which recently arrived from Spain, that will also be used to assist other airlifters in humanitarian assistance and disaster response operations.
In a statement, PAF said both GBADS and C-295W were a product of the Horizon 2 of the Armed Forces of the Philippines Modernization Program.
The Spyder Air Defense acquisition was concluded in mid-2019, while the acquisition of additional three C-295W medium lift aircraft was concluded in the last quarter of 2020.
GBADS, which seeks to enhance the PAF's air defense capabilities, is a mobile air and missile defense system designed to protect critical installations, land-based fixed assets, mobile platforms and friendly forces from aerial threats such as combat aircraft, attack helicopters, unmanned air vehicles, incoming missiles, guided munition, and rockets.
The C-295W aircraft, on the other hand, is part of the three of its kind that were acquired from Airbus Defense and Space from Spain under the Medium Lift Aircraft Acquisition Project.
Another C-295 is currently having its flight test in Spain. The first was delivered in March this year.
The delivered C-295W is an upgraded version of the C-295M, the difference can be seen on the wingtips as the C-295W has winglets for greater lift and fuel efficiency, thus, increasing the aircraft's range.
The 220th Airlift Wing of the Air Mobility Command will operate these aircraft which will be utilized to transport troops and equipment to various parts of the country.
Both GBADS and the C-295W are intended to improve the air defense cover of the country, as PAF embarked on the acquisition of several air defense assets, including air and land components that would form a system that are networked to each other.